About Cotswold Cards and Crafts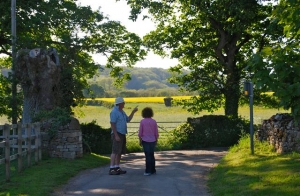 We consider ourselves very fortunate to live in the Cotswolds – one of the most scenic areas of Great Britain.
Located in Kineton, near Bourton-on-the-Water, we are surrounded by beautiful rolling hills, ancient woodlands, fast flowing rivers and babbling brooks and streams.
The area is also rich in wildlife and our garden is regularly visited by small deer, rabbits and the occasional fox – the latter not so welcomed by our chickens. As the seasons unfold, this rich environment offers ever-changing vistas and huge inspiration for the photographer and artist.
We hope that we can celebrate and pass on some of the beauty of the Cotswolds through our greeting cards and crafts.
Card Designs
Each art card is based on one of Martin's original photographs or paintings.  Most days we are out with our dogs, walking the local trails and footpaths and Martin is rarely without his camera.
The best photographs are selected for card designs whilst others may be used as the inspiration for a painting. The other designs are digital paintings by Martin who was inspired to try digital painting following TV publicity of the ground-breaking work by David Hockney and others.
We hope you like our designs. We will continue to add new designs so your choice will continually widen! Please let us know if there is something you would like us to feature.
Manufacture
Cards are designed, printed, folded, cut and packaged by us – a true one-stop-shop. Square cards are approximately 140mm by 140mm though this may vary depending on the steadiness of our hands!
We use high quality single sided gloss card of 240gsm – which we believe to be the optimum for quality and weight. Cards are all blank inside to allow you to write your own messages.
Envelopes are high quality and vary in colour as we try to match the envelope to the design. So, some of our rustic cotswold designs come with recycled brown envelopes whilst winter scenes usually look better with white.
Details of each design are noted on the back of the card. Click on your selected design to see an image of the rear.

Prices, Postage and Packaging
Our cards are sold through a handful of select outlets in the Cotswolds. Shop prices can be up to £2.50 per card. Our on-line offer price of £1.80 per card represents a saving of up to 28%!
Please note that FREE DELIVERY is available for all orders of totalling £10 or more (i.e. any assortment of more than 6 cards). For smaller orders we charge a flat £1.00 for postage and packaging to all mainland UK destinations.
Orders received before 2pm are normally despatched the same day. If later, then we will try to despatch the next day.
Custom Cards
We are always delighted to produce custom cards based on the photos or paintings of our customers. These tend to vary in complexity so please do get in touch by email if you'd like us to quote. Custom christmas cards are particularly popular, so do let us know if you have a seasonal photo or image that you would like us to use to produce your custom cards.